About Crete Carrier
Founded more than 50 years ago, Crete Carrier has grown to one of the nation's largest, privately held trucking companies. Along with sister company, Shaffer Trucking, and wholly-owned subsidiary, Hunt Transportation, Crete Carrier Corporation operates as a truckload and flatbed carrier of virtually any commodity. At Crete Carrier, we are dedicated to our drivers. As a result, we have one of the lowest driver turnover rates in the industry; with drivers staying with us three times longer than they do our competition. Our professional drivers are among the best on the highways, meeting standards far exceeding those required by the U.S. Department of Transportation.
Driver Pay
Miles is up!
We have new dedicated/regional fleets with more home time
Starting OTR pay $.59 - $.65 CPM
We pay Practical vs Short Route miles (which pays 3-5% more miles annually)
We need safe experienced drivers that want to run
We are a debt-free family-owned company
May – October our miles were up 17.1 million miles compared to the same six months last year.
Top 50% average $96,034 per year
Awarded as a Top Pay Certified Carrier by the NTI for over 10 years
Safe Driver Productivity Bonus
Guaranteed Detention Pay
Benefits of Joining Crete Carrier
Full benefits: Health from BCBS, dental, vision, life, and 401(K)
Annual profit sharing contribution

Contributed $12 million towards employee profit-sharing in 2020!

Pet Policy: 2 dogs or cats
No-cost rider policy
Increased cruise speed
Paid orientation
Industry-leading CSA scores
Average equipment age of 2 years
Dedicated Dispatch 24/7
Qualifications
Valid Class A CDL
1 year of verifiable tractor-trailer experience*
Has passed the required company and DOT physical, required drug test, company in-truck driving test, and otherwise meets DOT requirements
Stable, verifiable work history
Minimum 22 years old
Has an acceptable driving record as reflected by MVR and PSP with no major preventable accident in the most recent five years
No DUI or DWI convictions or positive drug screens or events in the past five years
Able to perform functions set forth in the job description

*Some area restrictions apply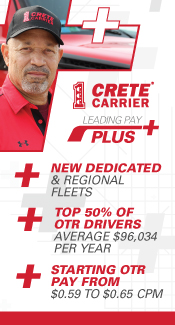 Hiring Area by State
Alabama
Arizona
Arkansas
California
Colorado
Connecticut
Delaware
Florida
Georgia
Idaho
Illinois
Indiana
Iowa
Kansas
Kentucky
Louisiana
Maine
Maryland
Massachusetts
Michigan
Minnesota
Mississippi
Missouri
Montana
Nebraska
Nevada
New Hampshire
New Jersey
New Mexico
New York
North Carolina
North Dakota
Ohio
Oklahoma
Oregon
Pennsylvania
Rhode Island
South Carolina
South Dakota
Tennessee
Texas
Utah
Vermont
Virginia
Washington
Washington D.C.
West Virginia
Wisconsin
Wyoming